---
---
---
http://www.scienceu.com/observatory/articles/retro/retro.html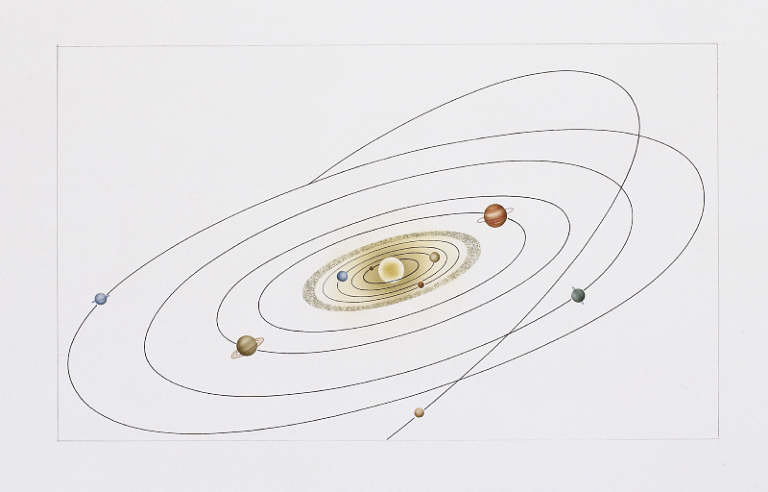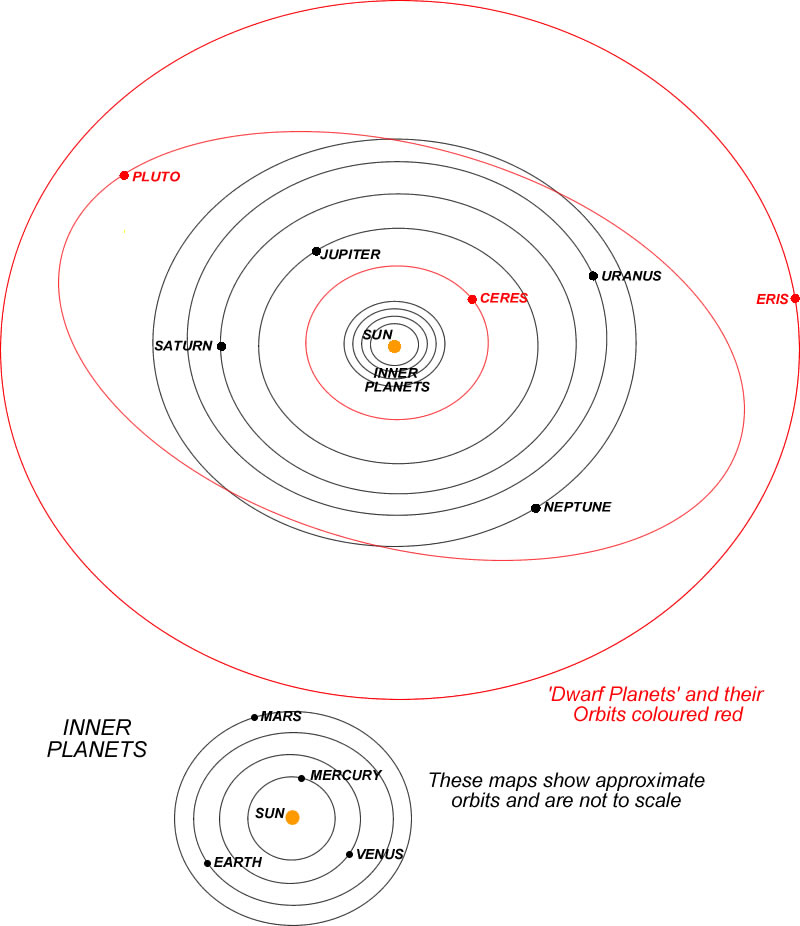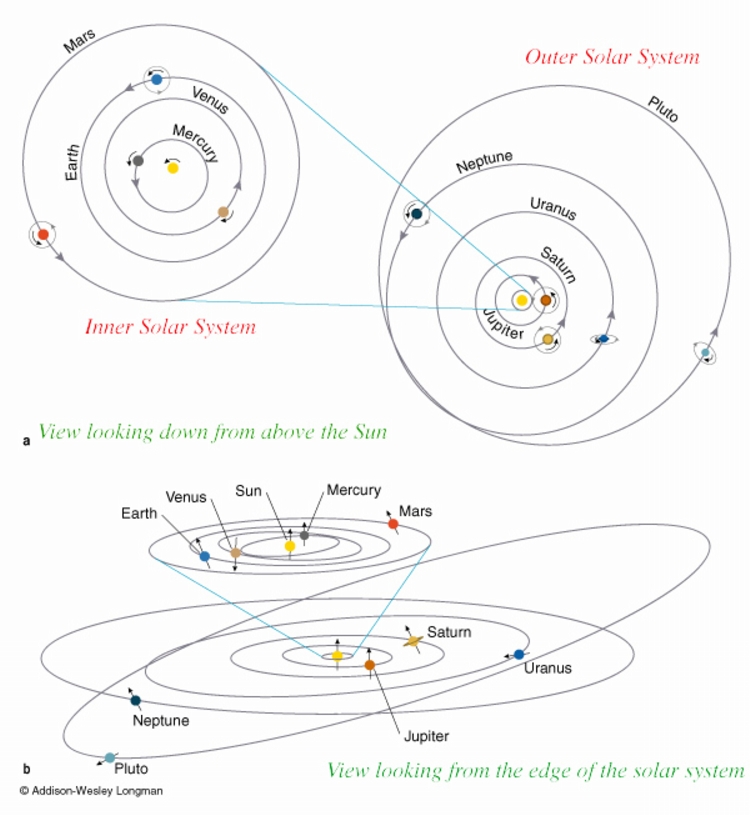 sevens
---
http://www.usm.lmu.de/CAST/picture.php?arch=2005/Dec_Hagen
There seems to exist a huge population of bodies between the Kuiper Belt and the Oort Cloud. The recently discovered are just the tip of the iceberg. Based on the models of the dynamical evolution of the Kuiper Belt and the constraints on its origin. I would propose that Sedna is an indigenous member of the solar system. After finishing my analysis, I would exclude that Sedna is a captured object. The clue about the environment and conditions during the formation of our Solar system is obtained as follows: I can not rule out that the Sun had a binary in the very beginning or a close encounter with a passing star.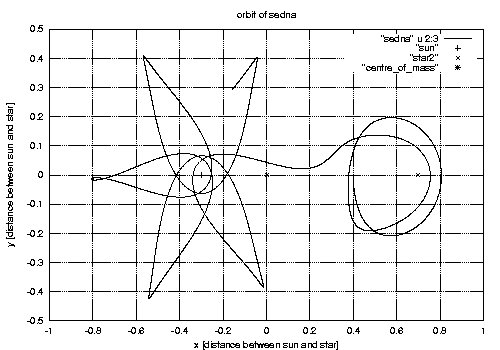 and
http://www.orbitsimulator.com/gravity/articles/sedna.html
Astronomers Alessandro Morbidelli and Harold F. Levison investigated Sedna's origins by performing numerical integrations using the Swift_rmvs3 orbit integrator to explore the idea that Sedna may have once been gravitationally bound to another star or brown dwarf, and stripped from that other star by the Sun, where it entered a highly eccentric orbit.
---
Here is the gravity generator that displays a simulation of Sednas orbit around the sun
sevens
---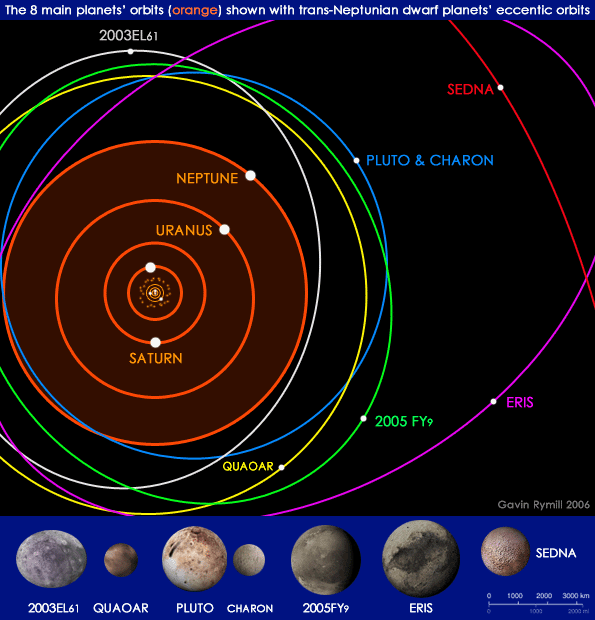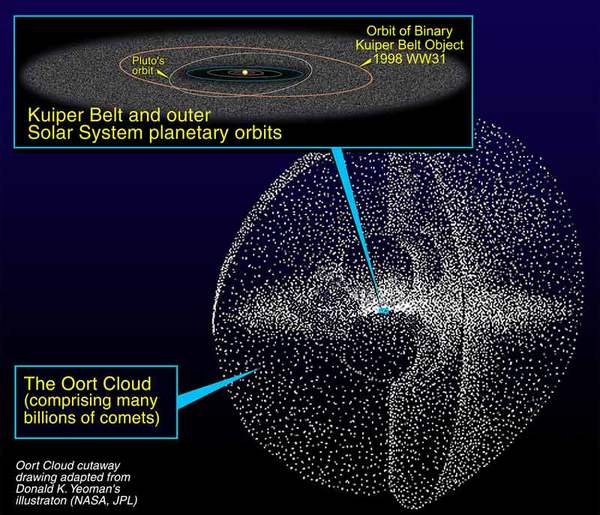 ---
---
---
---
---
---
---
---
---
---
---
---
---
---
---
posted 03-07-2009 03:42 PM
---
Mike 1234

Speaking about the economy.

If the Lord of everything, God sees that the economy is destined to ruin man in the long term, the Universe Administrators will correct even to the point of smashing the economy if it means to get the point across especially when man wants to avoid correction.

Man cannot away with it, if his plans are contrary to Paradise. Man has wake up he cant be ravenous dog screwing people just to make money and for what?

sevens
---
---
---
---
---
posted 03-11-2009 01:31 PM
---
That is the wall that your speaking of right!

as spoken by the Urantia Book right

The wall or the natural wall the Urantia Book speaks of and the Wall Robert Sarmast displays.

The natural stone wall you can see for yourself in your face fool, not to mention the other place to the North as spoken about.

Your such a shallow guy with not a scrap of evidence to show for yourself and a crook theory based on a time which is just so recent and has no relevance to the land of the Gods.

A simple read and see exercise for even the dumbest people and still in denial.

stick it where it fits.
Here http://robertsarmast.blogspot.com/

One of your mates in your own self deception and half cocked theories.

sevens
---
---
---
---
---
---
---
---
---
posted 03-20-2009 10:32 PM
---
This might be a nice message of Islam but it is not the religion of peace at this time but a religion of terror.

I appreciate many thing this man says including his desire of the truth for Islam but unfortunately there are many parts of Islam that have been corrupted and infected by the hatred of the Last Rebel

http://www.desivideonetwork.com/view/a3qf85752/islam-exposed-the-true-face-of-islam/

The Quran needs are review and the Rebel infected parts must not be adhered to or even listened to.

Actually, the best thing for Islam to do is swing over to the Urantia Book and learn something that will bring them into Paradise with full backing of the Father.

At the moment Islam is failing and is becoming a religious catastrophe and scourge to the planet by these Jihad no brains terrorists who have no truth in there souls and they cannot demonstrate purity in spirit.

Islam needs a complete renovation and the Urantia Book can help them including proper interpretations of the Bible off course.

At the moment the terrorist way is the way of the fool and will lead to personality extinction!!!!

Sevens
---
posted 03-20-2009 10:47 PM
---
Then you have to other side of the fence and consider Hitler murdered many millions of Jews including Stalin before Israel was created.

Seven
---
---
posted 03-21-2009 02:49 PM
---
---
Well the current human is just a lousy witness to the truth.

Man is generally is full of crap man. Full of lies and deceit for his own lusts of selfishness.

Just look around man.

There is a divine judgment coming and then we will see man in his fear knowing he is guilty of these things and in these days man continues in this path. The whole world is full of this last rebel rubbish that I am totally sick of and so is the Universe including the Judgment seat.

Whether we agree or not Judgment of mankind is attached to Eden of Cyprus and that is in all the books of religion so be prepared in your heart because everything is going to slice man in his heart, in truth as it happens.

Its a warning based on faith and manifestation. Its a warning for every man to prepare his soul for the review of the Justice courts of the Ancient of Days.

I say all this as Im concerned for the people here. I'm not against anyone here I want them to be utterly successful...off course why not!

I believe there will be 2 raptures, the first being the confirmation of the witness and the second right before judgment.

When the first rapture comes there maybe a EMP effect which brings the world into darkness. Then the fat lady sings and then people realize and the devastation that man will feel and it will be terrible but there is a way out and that is related to the ancient places and all the books of religion. This will lead, in preparation for the final and last Evac train out of the station. Like "The last train out of Sydney"

If there is an EMP effect it will derive from the Magnetar broadcast system, that's where the noise emanates from including the knock out blow to all electrics. By the way if you had a inserted rebel chip that will burn inside of you to.

We all have to be prepared and attuned.

Atlantis is not a easy walk in the park. Atlantis is a viechle that deals with the Soul of man. Atlantis being of the Gods, so to speak where the Gods are only interested in the Soul of man and his success. Its an actual living legend which will manifest in truth as in a great big reality check for man to ensure his success. Its part of the correction of man.

Anyway it all in the books and the books are judging mankind in his behavior. Blame the Books and God, I only write for the Universe administration.

If you have something against this I would suggest you lodge a complaint in the justice courts of the Ancients of Days.


Consider the demise of Atlantis was the degradation of the Soul of Man and precisely with what Atlantis deals with today.... the soul of mankind in order to rectify what went astray eons ago and that does includes judgment.
And by the way the Universe and the Judgment seat only recognize the Living truth of Jesus who is literally our Saviour. He is the only door of success through this terrible time man will go through. There is no other door that the Universe Recognize as worthy.

All the Lucifer last rebel inspired channels of untruth will go by the way of the fool and will be like chaff in the wind in the sorting and review.
No Lucifer Sophistry is going to save your arse NO WAY possible! That is a dead end and I know the UN embrace this Lucifer sophistry that will fail them.
All these so called ascended masters representatives of the Last Rebel or the Last Rebel himself in deceit will not help you at all. All that will fail you in truth, all that is just deceit from the last rebel deceiving mankind.

sevens
---
posted 03-21-2009 09:50 PM
---
I agree with that Brig even though I was was unaware of the details behind the protocols as you raised. I like cannot believe the Jewish people are like that and I also believe you that it was written by the Czarist Russian police who had motive against the Jewish people like those who proclaim this rubbish to better there own agenda, like Iran in there anti Jewish sentiment filled with propaganda and hatred...terrible international attitude for a country.

I sounds right what you say.

Sarmast does NOT believe in this protocol in his blog, he noted the kind of mischief that goes on in the world between the forces of truth and untruth. He does agree, like yourself believes it is all propaganda like I do.

That document is totally evil!

sevens
---
---
Hi

I have been watching Perry Stone lately as you probably realize and I think Perry Stone has some good insight I like the way he researches and expresses himself.


You guys might have a different idea about him, no worries but I dont mind him and he does fight for Jesus like us all.

I noticed this article from Him and I know that these rods or seraphim's can transmutate themselves in flying rods.

http://www.voe.org/index.php?option=com ... gory&id=78

Here is

Perry Stones article about what was seen in the video tape




Here is the Urantia link that describes this transmutation of the Seraphim which fits what Perry Stone saw and cionsider the Seraphim does transport the soul of a person to Heaven through the Seraphim.




http://www.urantia.org/cgi-bin/webglimp ... ne=179#mfs


I think its a match of what Perry Stone saw in the video and what is mentioned in the Urantia Book.

Sevens
---
---
---
---
---
---
---
http://www.made-in-sheffield.com/places/def-456.asp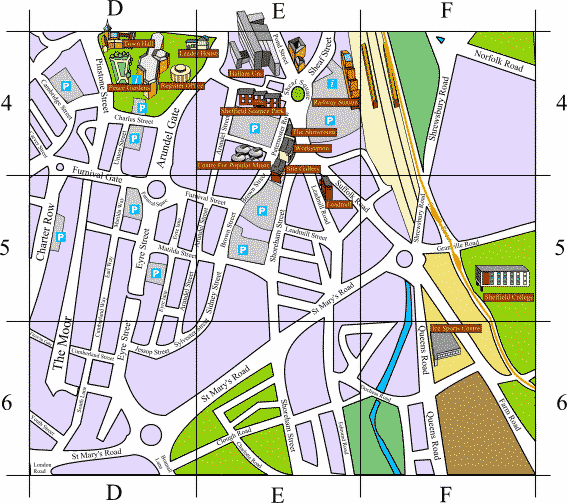 and note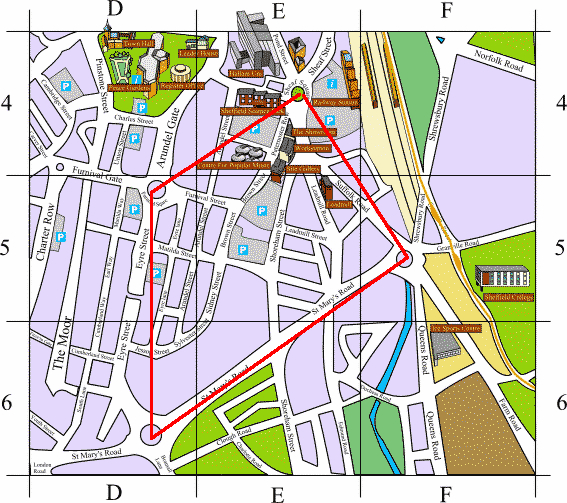 sevens
---
---
---
Perry Stone Manna Fest #410 The Gates of Heaven
http://www.tangle.com/view_video.php?viewkey=d99c1e73e6d81b442688
---
---
Perry Stone Manna Fest #411 ShakingHeaven/ClosingGentileAge
http://www.godtube.com/view_video.php?viewkey=0986c313fb943190c97c
Perry Stone Manna Fest #396 Early and Latter Rain
http://www.godtube.com/view_video.php?viewkey=74fa5d194e52a2952bb2
and 14/05/61 I was born
Israel was born 14/05/48
Perry Stone Manna Fest #403 Maranatha
http://www.godtube.com/view_video.php?viewkey=1885225c04ca0aa767cd
---
---
---
---
---
posted 04-03-2009 09:25 PM
---
Maybe you should put up the rest of his posts fool so people can read it in context.


By the way where is your evidence or demonstration of anything


Your just simple minded trouble maker who cant see beyond your petty ego and attitude of grandstanding.


Just an idiot at the end to the day and that will be demonstrated if it hasn't been demonstrated already!
You go by way of the fool in chosen ignorance.
The End Times is precisely meant for people like you Jamie who choose to walk the line of chosen DUMB like a coward running for the hills in light of truth and demonstration!

sevens
---
posted 04-03-2009 09:58 PM
---
Here is an extract from here EMP/rapture

http://forums.atlantisrising.com/cgi-bin/ubb/ultimatebb.cgi?ubb=get_topic&f=1&t=002032


quote:

---

When the first rapture comes there maybe a EMP effect which brings the world into darkness. Then the fat lady sings and then people realize and the devastation that man will feel and it will be terrible but there is a way out and that is related to the ancient places and all the books of religion. This will lead, in preparation for the final and last Evac train out of the station. Like "The last train out of Sydney"

---
Since then I went on a road trip and things have happened as documented in the Shabbes Timeline. 2 blackouts in Sydney 6 days apart where the causes are unknown...amazing! and consistent with the conversation in the threads.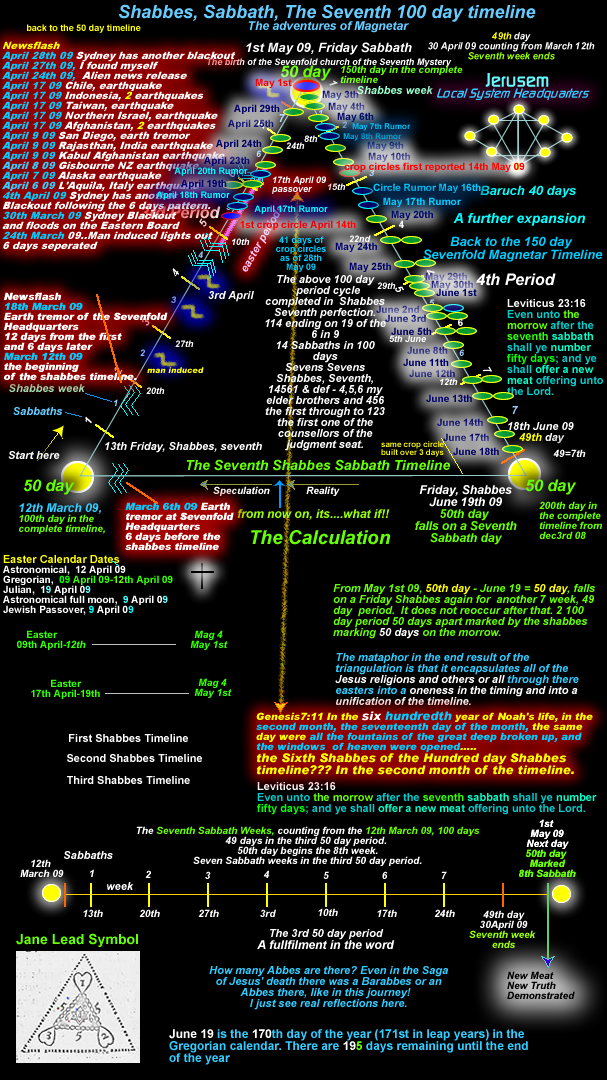 http://www.dalamatiacity.com/MagnetarSabbath.htm


sevens
---

http://www.youtube.com/watch?v=HdDbR56XOdI
Daniels Timeline - Part 2 0f 12 - Understanding End Time ...
---
---
posted 04-04-2009 04:33 PM
---
When you say Exotic religion do you mean Hawaiian Music and hula dancers whilst reading the Urantia Book with Lullaby music in the background. That's sounds pretty cool to me.

By the way what do you discuss? anything worthwhile and that can be demonstrated as fact?

No

That means you would have nothing to say and therefore means you're in the wrong thread.
ahahahahahah

Also this thread is all about religion and the failed religion of Atlantis and the its unfinished business.....in fact. Not about non thinking selective pride and prejudice without reading everything in context

This is what Robert Sarmast was saying

The Protocols of Zion is real; everything it said would happen has already happened. But it was written by Luciferians, not Jews as many believe. The Luciferians hate the Jews (their line produced all the prophets, Jesus, Moses, monotheism etc.) and they deliberately shaped the Protocols to seem like it was the Jews writing it.

In other words, the Jews DIDN'T write the Protocols, and are being wrongly blamed.

Jamie your'e not reading it right. Your'e misunderstanding it.

From what I understand these protocols where written by the KGB many years ago as an excuse to imprison the Jews.

sevens

---
posted 04-04-2009 05:08 PM
---
While Im on the subject

Whilst I was up North I saw a brief glimpse of an interview with the opposition leader of Iran Seyed Mohammad Khātamī.

If ever Israel and the USA has a chance with Iran to find the road leading to peace it would be through this man.

Seyed Mohammad Khātamī
http://en.wikipedia.org/wiki/Mohammad_Khatami

I am thoroughly impressed by this man.

He doesn't believe in Nuclear weapons and they should NOT be built.
He believes the Holocaust occurred
He is opposed to terrorism and thinks likes we do about it.
He seemed like a very balanced man that the west could find the road with.

I think he is open minded and rather approachable and would be well liked in the West. He does have a charisma about him.

I think he is the man to look out for better future for the region. I think he is a pacifist good for the area.

In fact he here in this country for a relations conference in a University. He is not to bad.

If it was between him as leader of Iran and the Israeli leadership I think the region would see a better future.

quote:

---

Khatami had run on a platform of liberalization and reform. During his two terms as president, Khatami advocated freedom of expression, tolerance and civil society, constructive diplomatic relations with other states including those in the European Union and Asia, and an economic policy that supported a free market and foreign investment.


---
but then again


quote:

---

On February 8, 2009, Khatami announced that he will run in 2009 presidential election.[3] On March 16th, he announced he was withdrawing from the race in favor of his long-time friend and adviser, former Prime Minister of Iran, Mir-Hossein Mousavi. [4]


---
Oh well have to see what this guy is like

Mir-Hossein Mousavi
This guy was an editor for a newspaper so you could imagine what that would entail in dotting the Is and Ts. and preferring this to that for a purpose.

If its for God essentially is Ok to falsify. In other words to lie is OK, if its for God.

There are some verses that reflect this in the Quran. We all know that's not right. No one should lie in any circumstance, in fact man lies far to much and God has to deal precisely with that in truth, in the demonstration of the End times.


Sevens
---
posted 04-04-2009 10:23 Pm
---
You seem right on that one.

That's why an event has to occur to mankind to grab his attention to these things. Unfortunately, I think Endless mercy and Nameless patience has run on this earth.

This is why I feel the process of judgment has to begin. There is no way the earth is going to rehabilitate to the Father in the Kingdom of Heaven at the present time. I dont hold much faith in this.

Everyone lies and they are to selfish regardless of the self glory man puts himself through. His whole notion of religion is out of whack and is evident by the hatred and division that exists amongst religions and not to mention no belief where there is no defense.

All the writings of man have infiltrated in one way or another by the last rebel with sophistry that looks like light but is rather dark.
The UN have not got it right either with their Lucifer Sophistry. If there was ever a planetary disaster or a rapture/EMP the Alice Bailey/UN sophistry would prove itself as useless to the core. It would do nothing just sit there like chaff and that would blow away in the winds of Judgment.

It is the most worthless information that will not assist man in what is to come. It could be that man is so unteachable that last resort has to occur.



sevens

---
---
---
---
Tablet 34